Cryptocurrencies have made their way into the gambling industry. There is probably no casino left that does not accept some kind of crypto. Of course, by depositing with crypto, a player is automatically exempted from taxes. In addition, transfer speed is almost instantaneous with minimum commissions of 0.05$. Unless, of course, you top up your account in BTC or ETH, where the commission may exceed the deposit itself and amount to more than $100.
Rating of cryptocurrency exchanges for casinos
Rating of cryptocurrencies for fast and profitable money transfers
At the moment, the leaders in terms of speed and fees are undoubtedly: Litecoin (LTC), Dogecoin (DOGE) and Tron (TRX). TRX is leading in transfer speed. Also in terms of commission, which for 1 transfer is equal to 1 TRX coin at a rate of 0.06$ per coin
Tron (TRX) payment details
Transaction fee – 1Trx = $0.06
Transfer speed – 1-3 minutes
Payment information Litecoin (LTC)
Transaction fee – 0.01% Ltc=15 rubles
Transfer speed – 1-20 min
Dogecoin (DOGE) payment information
Transaction fee – 1 DOGE= $0.06
Transfer speed – 5-20 min
Cryptocurrency has a very high volatility. The rate can instantly both increase and decrease by 1-30%. But such jumps are quite rare. If you don't want to take any chances, you have to use USDT. This is the same dollar, only operating on cryptocurrency exchanges.
USDT payment data
Transaction fee – ERC20 network = 4 USDT | TRC20 network = $0.8
Transfer speed – 1-20 minutes
If the casino does not withdraw funds because of transaction delays – this does not happen! Any transaction LTC, DOGE, TRX – made within 30 minutes. Again, TRX transfer speed is 1-3 minutes.
One of possible delays can happen from exchanger side. For security reasons, any crypto exchange can delay the transaction. It takes no more than 30 minutes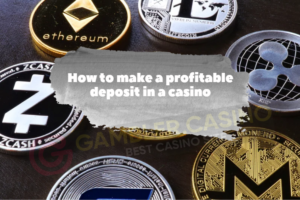 Instructions for exchanging TRON (TRX) cryptocurrency
We have taken the cryptocurrency exchange Huobi and Tron (TRX) as an example. It is very convenient that there is no need to verify.
1 Register on the exchange Huobi
2 To find your TRX account, go to your personal cabinet and tap on Balance – My assets. In the cryptocurrency search, enter TRX and click the button. This is what it looks like on the Huobi exchange: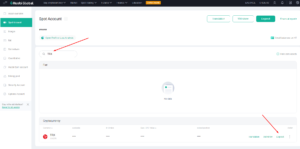 3. The security system will alert you that a copy of the wallet address has been sent to your Email: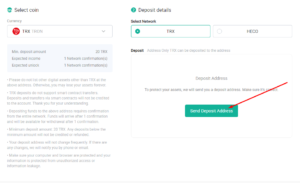 4. Your wallet is activated (it is shaded in the screenshot). There is a button next to it to copy the address to avoid errors: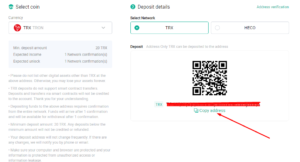 Similarly, any cryptocurrency can be used to deposit and withdraw coins. If you haven't tried it yet, I recommend it! It's very convenient and safe