It is an erroneous opinion to think that a newcomer to the casino is more lucky than a long-registered player. This opinion has been on the network for a very long time, but it is not. Most likely, such a "duck" was launched by advertisers in order to more successfully attract new players.
The player, on the contrary, should be ready for the first losses, or for small wins.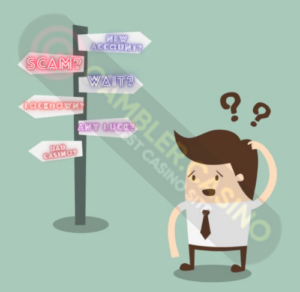 Why a new player should not hope for a big win at the first stage
For more than 10 years of playing in 15 different online casinos, we know how the algorithm works. In my memory, from the first few deposits, it was not possible to win well. Usually, for the first few deposits of 100$, it was possible to win no more than 200-400$. Larger amounts were won in the range of 1.5-3 months.
This cannot be a coincidence. A similar result was obtained by several players in many casinos.
Mistakes new casino players make
Often players after several failures block the account. Then they start looking for new casinos for themselves. And all again in a circle, lost-blocked-registered. Thus, dooming yourself again and again to failure.
I myself once made such mistakes. In a fit of anger, after a series of failures, he was blocked in some casinos. Now I understand that I did something stupid. After all, I deprived myself of well-heated accounts, in which, if not in all, then in many, an excellent skid would have been caught. Moreover, such a skid could easily cover all the losses in this casino and even become a plus.
You don't need to "fill in" a lot at the casino for 1 time. Better 10 deposits of 100$ within a week than 1 deposit of 1000$.
Warmed up account
Any casino, even a script one, needs to "get to know" the player better. The script of licensed and scripted casinos reads various statistics for each player:
Average number of bets per session
Number of gaming sessions over a long distance
Behavior after a certain win
Of course this is not accurate, but it is quite logical. Because very often there is a feeling of deja vu, in repetitive moments.
By playing for several months in a row in a casino, you thereby show that you are not a stray guest for a quick win. Any casino needs players for a long distance. The casino will be loyal to such clients and will often delight with a series of big wins.
Tips
If it was not possible to win at a distance within 2 months in 5-8 gaming days, in this case it is necessary to forget and not enter this casino for 4-5 weeks. After the break, the chance of a big win will be very high. Winnings can easily cover previous losses and "heap" from above.
All of the above applies to popular casinos. If few players play in the institution, then it will be problematic and sometimes unrealistic to wait for a win.
Also, in casinos that are "blown away" like Joycasino, there is also nothing to expect. The RTP indicator is set to the very minimum.
The Gambler.casino website contains only verified casinos. If you do not have an account in any of the presented establishments, go for it! Each casino is tested on its own experience.