By playing quality slots competently over a long period of time, game results can remain positive. All large winnings are withdrawn steadily and even a large portion can be spent. Unfortunately, after a long time, the next stage of addiction appears. If the player used to be excited about big winnings, in the future it will not seem so big. A gambler often starts making mistakes, namely trying to win more. After winning let's say $ 10,000 a player thinks play for another $ 1,000 and withdraw the rest. But it didn't work out that way. The feeling of a lost thousand dollars will not give rest, and the gambler continues to play further. The bar is lowered again and again until the balance is zero.
If you have reached this stage, you can say goodbye to the plus game. After all, one of the most important rules – the withdrawal of large winnings is broken. But there is a way out of this situation!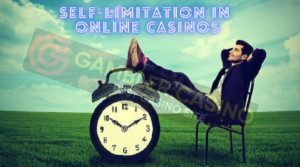 A casino with limits and self-restriction
Not everyone knows that there have long been online casinos with loss limits and various self-limitation settings. Unfortunately, not everyone wants to understand the casino's functionality. So, one of my acquaintances after a big win at Bitstarz, instead of withdrawing money, he lost again. When I asked him why he didn't set a limit for losing, he asked in bewilderment – how is that? Can you imagine? The man didn't even know that it was possible to eliminate losing by setting limits with one click.
Online casinos providing self-restriction and loss limits
There aren't many online casinos that provide loss limits. We present a list of casinos that will prevent you from losing heavily: Bitstarz, PlayAmo and Riobet
Let's take Bitstarz Casino as an example of how things work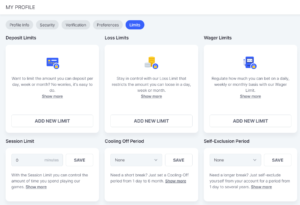 Click on My Profile in our Secure Client Area to open the following menu. Go to Limits (on the PC it will be Responsible game). You will see the Self-limit section with different choices:
Deposit limit. Suppose you set a limit of $100. In this case you will not be able to deposit more than this amount per day.
Limit on losing. It doesn't matter what your balance will be. Losing within a day can't be more than the exposed amount. Functionality will not allow you to make a bet in slots, as well as in live games.
Betting limit. Also an important trick. During strong excitement do not get to play on the insane stakes. Suppose you specified the maximum bet of $1. No spin greater than this amount even by 1 cent will not work.
Limit on the session. By setting a limit on the session, losing your entire balance in one trip to the casino is ruled out. The next session of the game may start after a few hours.
Self-Off. Completely disconnects the account. There will not be accrual of weekly bonuses. Go to the casino is simply not possible. You can activate the blocking for 1 day or for several years.
Be careful! It will be impossible to remove the restriction. So, think carefully before you decide to block your account for a few years. If you do, you will lose the game at a top casino. After all, the excitement will take its toll and you're likely to find another casino with bad conditions.
Bitstarz is probably the best casino with cool functionality. You can enjoy unlimited withdrawals around the clock and a variety of self-limiting options.
Riobet Casino
The self-limiting functionality is not as comprehensive as in Bitstarz, but it is still possible to set loss limits.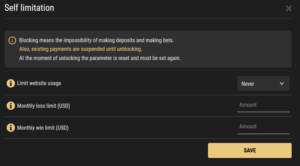 Riobet offers 3 types of restrictions:
Restriction on the use of the website. This restriction can be activated for 1-3-7-14-30-60-90 days. All cash transactions will be suspended. Please note – you will also no longer be able to withdraw funds.
Losing limit. Option "monthly loss limit" works as follows: sum of winnings is calculated from the total sum of bets. As soon as the amount exceeds the set limit, a lockout takes place for 1 month from the time of setting the parameter.
Limit for winnings. After setting, the amount of winnings is deducted from the amount of bets. Once the set limit is exceeded, a lockout of 1 month will occur. During this period it will be impossible to create deposits and make bets.
Minimum betting limit is $100. It is impossible to choose a time range on limits, after activation restriction will be valid for 1 month. At the moment of unblocking all parameters are reset.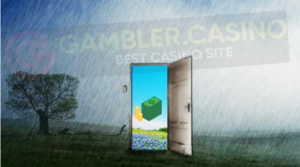 How to use limits and self-limits correctly in casinos
In order to avoid making mistakes, we have made detailed instructions. Following all the points will leave you with the money, or lose a small part of it.
How to act after a big win
After winning a big prize, set a loss limit straight away. Suppose a winning of $ 1000 Set the limit, which is not sorry to lose $50-$100.
Create an application for withdrawal.
Self-exclusion should not be used. Otherwise you will not be able to withdraw until the lock is disconnected.
If winnings are very big for you – activate self-elimination for 10-20 days after withdrawal.
Player, who is heavily addicted to gambling – need to block in all those casinos, where there is no limit on losing. You also need to create accounts in all kinds of casinos and blocked by requesting support or multiaccounts. In this case, a large future winnings and all cash will be 100% safe.
If you are still unsure, you need to go shopping online and put the items you want in your shopping cart: TV, clothes, etc., in advance. You can make a purchase at any time of the day, which is very convenient.
A good option for the next day would be to open a deposit in the bank, with no possibility of withdrawing the deposit within 3-6-12 months.
How not to lose all your money
Act in the same way as in the previous instruction. Especially if you have a fear of losing money before every paycheck. We will try to help in this situation:
Necessary to completely cut ties with the casinos in which there are no limits on losses. Also, do not be able to play in new casinos. To do this, create accounts and block in all institutions.
Set a daily limit. As soon as the amount of loss becomes critical – feel free to set a self-exclusion for a certain period of time.
To sum up, it is worth noting the mistakes of some players. I have seen "scary" screenshots of players with overall financial statistics. How amazed I was by the figures: for 1 year of play the player had $20000 deposits and 0 withdrawals. Can you imagine that it happens? I think this kind of bad luck is very rare.
With my average betting up to $10 per spin, my worst statistic was -$3500 without withdrawal and that only in one casino. At other venues, deposits did not exceed $1000 before first withdrawal. I did not pay attention when this casino was in deficit. My observation is that you need to withdraw money more often, the game changes after that.
---